Stamped Concrete in Miami, Florida
We like to think of ourselves as the Stamped Concrete Miami experts. We pride ourselves on being the best there is! The flooring areas around your home are important to the look and feel of your entire house, then your patio starts to look dated and unsafe it affects the way you enjoy your outdoor area, which is why it is important to have it looking fresh, safe and inviting for you, your family and your friends. A stamped concrete patio is an excellent addition to your home, providing you with a unique and impressive surface that's quick and affordable to install.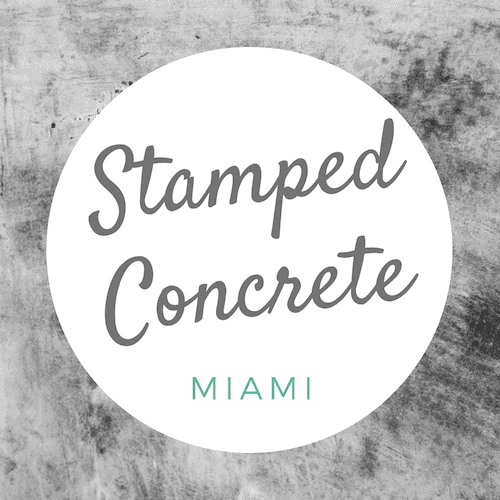 About Us
Stamped Concrete Miami is a contracting service that specializes in residential and commercial flooring products like stamped concrete, decorative concrete, and concrete installation. We have established ourselves over many years as the leading service in Miami, we strive to provide the absolute best service and quality of the finished product for our customers that time after time leaves our customers wowed by the standard of our work.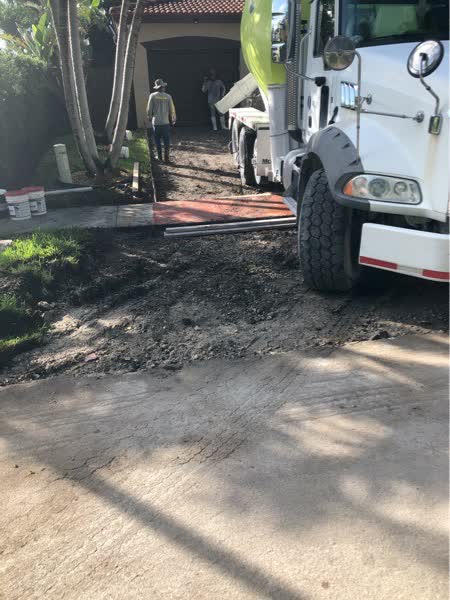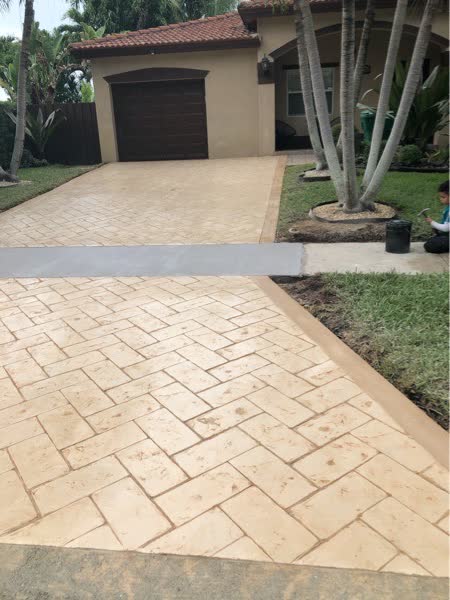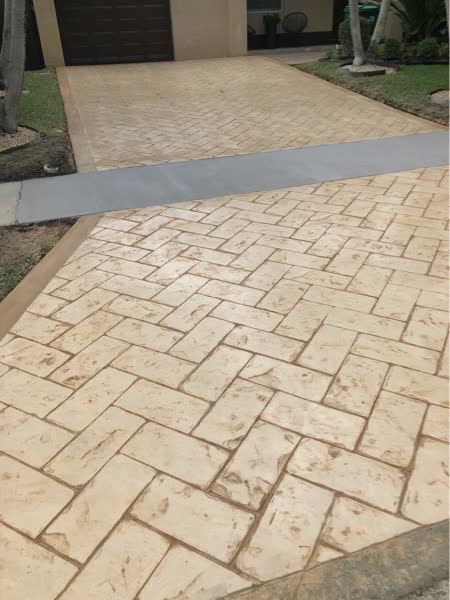 Our Services
The services we have on offer are the result of years of development with our customers, learning what they want and developing our skills to suit their needs. Our team has worked hard to be the best at creating decorative and artistic concrete projects, along with restoring and polishing existing concrete into beautiful flooring. We're confident that whatever your need is in your home or office, we have a service that can suit you, take a look at everything we have on offer and see how we can help provide you with a great looking stamped concrete driveway or concrete pool decking.
Stamped Concrete Miami FL
Concrete is a great building material to use throughout your home, but on its own can look a bit plain and boring. Stamping is the process of pressing a pattern into the concrete as it sets to bring an interesting look to it, giving it a more interesting look than just standard poured concrete. We have a huge range of different stamps available to apply an interesting pattern to your next concrete project, we even have patterns that look like other building materials such as stone, tile or brick so that you can achieve the same look as those materials while still enjoying the benefit of concretes affordability, strength, and quick installation.
Stamped Concrete Driveway
Driveways are the first thing that people see when they are approaching your home. Don't you want it to stand out and be a work of art? We like to think that it should be something of beauty and recognition. Stamped concrete is a versatile and unique option that will ensure your driveway is the talk of the town. Our experience and professional knowledge will ensure that you get the highest possible service and installation. We take the care necessary to make sure that your driveway looks and feels unique and durable. We want your concrete to last a lifetime.
Concrete Pool Deck Installation
A smooth, stylish pool deck helps you make the most of the pool outside your home that brings so much joy to you and your family on those beautiful Florida afternoons. If your decking is starting to deteriorate and need an update, or you are tired of the grass you have there now, our team can come and install a new one. Using our stamping or polishing techniques, we can give you a great looking deck that makes your pool come alive.
Installing concrete in Miami, Florida is a job best left to the professionals. We can demolish an existing surface or install a fresh surface on top of grass or dirt. We make sure that your concrete installation is prepped properly as to prevent cracking or structural damage. We also make sure to take the time necessary to make sure the area is fully prepped before we do any pouring of concrete. In Miami, we always make sure things are done right!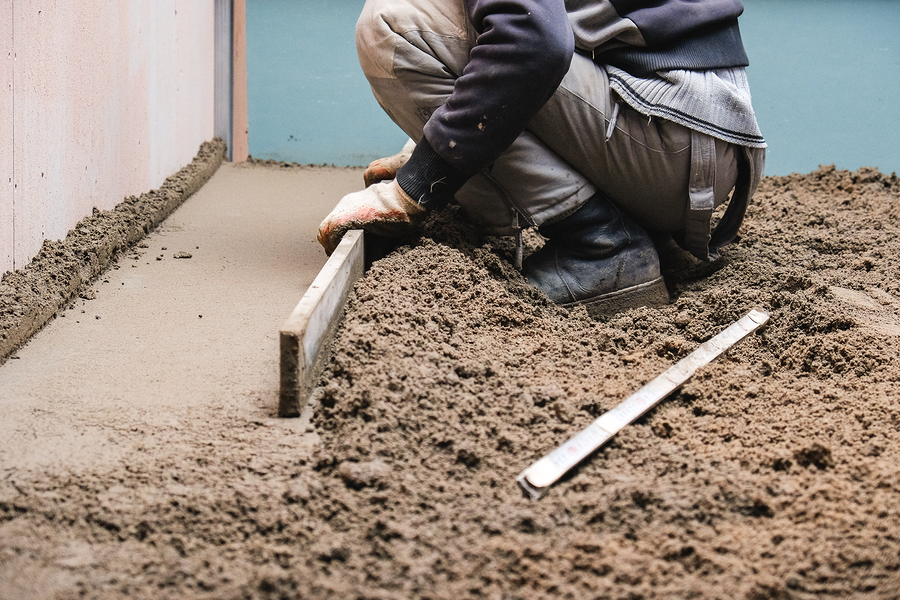 When you have an outdoor area that needs a new flooring solution, concrete is a great option to give you a stylish look that you can customize to suit the look of your home. Our professionals can pour all kinds of concrete styles, from broom finish gray to terra-cotta stamped flagstone. Concrete can be used in a range of different ways in your home, from patios to paths running through your garden, whatever your need we can help find and install the right concrete for your project.
Driveways need to be tough to handle cars driving over them constantly, there's no material better suited to the job than concrete and when you pair it with our stamping service you're getting a stylish solution that is still affordable and quick to install. We can work with you to find the concrete driveway design that suits you best, so you can be proud of the entrance to your home.
"I needed a concrete contractor to put a new concrete patio in our yard, I found Stamped Concrete Miami and spoke to their team and they came out to pour the concrete the next day. I was amazed at how simple they made it look, and the result speaks for itself, I couldn't be happy with my new concrete patio." – Taylor P.
"Our pool deck had seen better days from too many years of use, it was looking outdated too so it was time to have it ripped out and re-poured. A friend recommended Stamped Concrete Miami who came to pour new concreting around the pool. They suggested some stamped concrete and now it looks fantastic!" – Vanessa J.
"My driveway was starting to crack and fall apart so I decided to get a professional in to replace it, I searched for concrete services near me and came across Stamped Concrete Miami. I was extremely impressed with their service, they helped me pick the driveway I wanted and had it poured in no time, very happy with the final result." – Luke S.
Viviana Benitez
2021-03-20
From the first call to the end of the job the service and knowledge was perfection. Very happy we went with this company.
I don't write reviews often, but I felt like I needed to write a review for this company. From start to finish I felt very good about their staff and their work ethic. They definitely know their stuff and that was conveyed from the first phone call. Throughout the whole project I felt very well taken and attended to. The communication was good, open, and honest. The job was well done and completed on time. I recommend this concrete company if you're looking for anything to do with concrete.
Thank you for a job well done. Our driveway was cracking and their experience really helped us to get the best work done. Originally we thought maybe it could be repaired and an overlay placed, but upon talking to Alison, she made it very clear that we would need a full replacement. An overlay would only last so long and I kind of knew that would be the answer. So we decided to go with a whole new stamped concrete driveway and it couldn't look better. A confident this will last us years and years to come.
Ricard Hensman
2020-10-18
Great company to work with! The guys did an amazing job and worked so hard to get my driveway done in one day. They came out and finished the whole job just days after I called them for an estimate, which I am so thankful for. They were extremely professional and went above and beyond. I highly recommend them!
I agree wholeheartedly with all these wonderful reviews. My driveway came out looking truly original and stunning. The color we chose was exactly what it needed to stand out from the house, just a bit. To give it that "pop" and make it look great! We are impressed with the amount of time and attention to detail all the workers spent with this project and would definitely recommend to anyone needing concrete work.
Do not use this poor excuse of a company. They will leave the job unfinished but of course demand payment. If you receive a message from the big Dominican guy STAY AWAY. This man did not finished my job took my money and blocked my number. I was going to recommend to several people if the work was done right. I wouldn't recommend this to anyone ever. They promised me they would finish next day, no one showed up for 2 days as I kept calling HE BLOCKED MY NUMBER. I am stuck finishing the job on my own. Incredibly unprofessional and honestly a joke. As a business man myself I hope this company does not succeed. No one should have to deal with this kind of treatment while paying $4,200 for a job.
Eduardo Torres
2020-09-03
Very professional company. Showed up on time and did an excellent job. They made an alteration to my driveway, then pressure cleaned and painted it. I was very pleased with the end result and the price was fair.
All the workers were very attentive to the project. Enthusiastic and helpful with recommendations for the challenges this project posed to us. Finishers were very skilled, hard working and friendly. The final project was exactly as I expected. Could not be any happier. Thanks!
Best Stamped Concrete Contractor in Miami and Surrounding Areas of Miami, FL
Stamped Concrete Miami is 3079 SW 18th St, Miami, FL, 33145, United States. From Miami International Airport (MIA) get on FL-836 E in Miami from NW 42nd Ct and continue on FL-836 E to Downtown Distributor. Then, take exit 2C from I-95 S and continue on Downtown Distributor. After that, take Brickell Ave to SE 12th Terrace and keep right to continue on Downtown Distributor. Use the right 2 lanes to turn right onto SE 2nd Ave/Ave of the Americas and continue onto Brickell Ave. Finally, turn left onto SE 12th Terrace and Stamped Concrete Miami will be on your right.
We are open Monday to Sunday 8 AM to 8 PM.
For additional questions, you can call us at (786) 460-5197 or find us at Yelp.
Learn more about the best stamped concrete contractor by visiting their online profiles on Google Sites, MapQuest, and Yelp and be sure to leave a review on Google Maps.
Contact Stamped Concrete Miami Today
If you have an upcoming project that involves any of the services our company offers, make sure you get in touch with us so we can help you to get the quality final product you deserve. You will find our contact number and email form on our contact page that you can use to get in touch with our consultants who will walk you through every step of the way. And we have been fortunate enough to team up with other contractors in the US. Check out our sister concrete contractor Santa Fe residents can trust!
Because there are so many stamped concrete designs to choose from, we would rather show you in person. Along with a free consultation, we will also provide you visuals of your dream concrete patio or driveway. With so many patterns and colors to choose from, we could never do it justice by putting them all here. Also, every home looks different, so we would rather show you how the colors or patters would look with the rest of your home. The whole process is so personal and we make sure to walk you through it every step of the way.
Get A Free No Obligation Quote Today!