When you choose Premier Decorative Concrete, you're working with the leading concrete contractors in Coral Gables. We take pride in delivering durable, cost-effective, and aesthetically pleasing flooring systems. Our team is made up of highly experienced and skilled concrete technicians. Trust that we are equipped and trained to install high-tolerance concrete floors to the residential, industrial commercial, and retail sectors throughout Miami.
We offer a wide range of flooring solutions that will suit any budget and style preferences. As the leading concrete floor installers in Coral Gables, we specialize in stamped concrete, epoxy coatings, concrete polishing, and concrete driveway installation. What's more, we are dedicated to achieving absolute customer satisfaction. So, expect us to provide you with the absolute best service and quality concrete floors.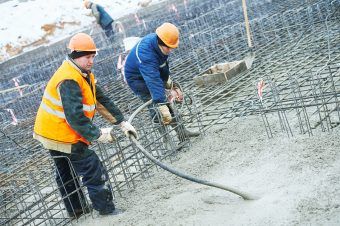 Our Services
Here at Premier Decorative Concrete, we only want to deliver the best value for our customer's money. This is also the reason why we invest in developing our skills and processes. Whether you need a flooring system for your home, warehouse, retail shop, or business establishment, we promise to meet—or even exceed—your expectations. Choose from our wide selection of concrete flooring services:
Stamped Concrete
Do you dream of having that stunning cobblestone walkway surrounding the Venetian Pool on De Soto Boulevard? Are you worried that there's no room for it in your renovation budget? Well, stamped concrete is the affordable yet equally beautiful solution for you. When installing concrete flooring systems, our team can also mimic the look of the material you like. What's great about stamped concrete is it allows you to choose among a vast selection of colors and patterns.
When it comes to longevity and durability, you can never go wrong with stamped concrete. We have the skills, equipment, and tools necessary to install your floors to the highest standards. Moreover, with imprinted concrete, you can have a flooring design that you can truly call your own. You'll also love how you won't have to deal with weeds as you would with gravel and block paving surfaces. To keep the stunning look of your stamped concrete floors, all you need to do is clean it from time to time and re-seal it every few years.
Epoxy Flooring
There are several benefits you can enjoy from epoxy coatings. For one, they are more affordable than decorative concrete. All the while, you can still select from several finishes. What's more, the surface is robust enough to withstand daily foot, machinery, and vehicle traffic. This is also the reason why epoxy coatings are widely used in commercial spaces, including the galleries in Lowe Art Museum. Epoxy flooring is perfect for retail shops, garages, basements, and any area in your home.
While you'll love the shiny and bright look of epoxy coating, you will appreciate how easy to it is to care for even more. If you don't like a plain, boring flooring system yet you want a highly durably finish, then contact Premier Decorative Concrete. Our team will install your epoxy floors to the highest standards, allowing you to enjoy the benefits of your investment.
Pool Deck Resurfacing
A stylish, smooth, and beautiful pool deck allows you and your family to enjoy lovely afternoons outdoors. However, once your decking starts to deteriorate, what should be a fun activity becomes a hazardous one. It is important that you update or resurface your pool deck when it starts showing its age. Trust the experts from Premier Decorative Concrete and we'll restore the beauty and functionality of your swimming pool. This way, regular afternoons will feel like a wonderful vacation at the Courtyard by Marriott!
Concrete Polishing
We use diamond-coated polishing disks to scrape off the top surface of the concrete until we've polished it down to a smooth finish. So, if you have existing concrete floors in and out of your home that you need to refinish, turn to Premier Decorative Concrete. We can even use additives to make the polish look impressive and unique.
Euro-Tile
We all know that the conditions in Coral Gables and other areas in Miami can be harsh. So, if you want an outdoor flooring solution that will withstand the elements, opt for Euro-tile. It is an excellent option for those who want a stylish yet highly durable concrete floor for their home. You can install them in your patio or you can use them as walkways through your yard. Just imagine having your own little Fairchild Tropical Botanic Garden in your property! What's important is you hire a contractor who can achieve the look you want for your Euro-tiles.
Concrete Driveways
You need to ensure that your driveway will be strong enough to handle vehicles driving over them all the time. When it comes to durability and strength, one of your best options is concrete. Don't worry because you don't have to settle with a plain, gray surface. With our stamping techniques, we can make your concrete driveway look stylish. Trust that we'll come up with a design that will complement the overall look of your home.
Hire the Top Concrete Flooring Installers in Coral Gables Today!
Here at Premier Decorative Concrete, we are dedicated to achieving absolute customer satisfaction. As such, we always promise professional service from start to finish. We will listen to your requirements and preferences carefully. Moreover, we will only use premium quality materials and high-standard concrete installation techniques. This way, you will get a flooring solution that will look stunning and will have a long lifespan.
Contact Premier Decorative Concrete today and get a free quote!
FAQs
Question: What factors should be considered when selecting a suitable site for concrete installation? Answer: When choosing a site for concrete installation, several factors should be taken into account. Firstly, the soil conditions and stability of the ground should be assessed to ensure a solid foundation. It's important to consider factors such as drainage, slope, and the presence of any underground utilities. Accessibility to the site is another crucial factor to consider, as it affects the ease of delivering and maneuvering concrete trucks and equipment. Additionally, the proximity to water sources and availability of electricity for mixing and curing processes should be evaluated.
Question: How long does a typical concrete installation process take? Answer: The duration of a concrete installation process can vary depending on several factors. The size and complexity of the project, as well as the weather conditions, can influence the timeline. Generally, for smaller residential projects such as driveways or sidewalks, the installation process can take anywhere from a few days to a week. Larger-scale projects like commercial buildings or foundations may take several weeks or even months to complete. It's important to account for curing time, which typically lasts around 7 to 14 days, during which the concrete gains strength and durability.
Question: What steps are involved in the concrete installation process? Answer: The concrete installation process involves several key steps. Firstly, the site is prepared by clearing and leveling the area, removing any existing obstacles or vegetation. The ground is then compacted to ensure stability. Next, formwork is set up to create the desired shape and dimensions for the concrete structure. Reinforcement, such as rebar or wire mesh, may be added to enhance the strength of the concrete. After that, the concrete is mixed according to the specified proportions and poured into the formwork. It is then screeded, floated, and finished to achieve a smooth and level surface. Finally, the concrete is left to cure and gain strength over time, and any necessary sealing or finishing touches are applied.
Location: 2151 S Le Jeune Rd, Coral Gables, FL 33134
Call Us At: 786 789 2717
Office Hours:
Sunday: 8AM to 8PM
Monday: 8AM to 8PM
Tuesday: 8AM to 8PM
Wednesday: 8AM to 8PM
Thursday: 8AM to 8PM
Friday: 8AM to 8PM
Saturday: 8AM to 8PM